My Luxy Liss Biotherapy- Organic Smoothing keratin treatment 1L

MY LUXY LISS BIOTHERAPY – Organic Hair Treatment
Experience the revolutionary power of MY LUXY LISS BIOTHERAPY. This 1L bottle contains an organic hair treatment that nourishes and strengthens your hair using advanced nanotechnology. Achieve brilliant, long-lasting smoothness without the need for clarifying shampoos. With one-step application and lasting results, this cruelty-free and EU-compliant treatment is suitable for all hair types. Elevate your haircare routine with MY LUXY LISS BIOTHERAPY for healthier, more vibrant hair.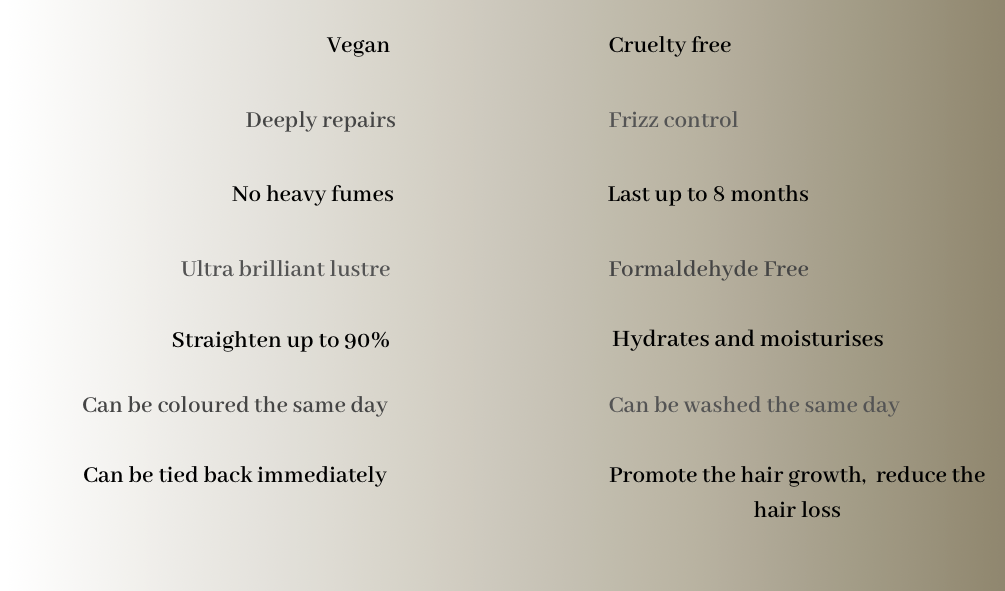 Login to see price
Description
ORGANIC TREATMENT – MY LUXY LISS BIOTHERAPY
1L
MY LUXY LISS BIOTHERAPY is an innovative hair treatment based on intracellular nutrition with nanotechnology. Its complex nanoparticles, enriched with natural amino acid-based ingredients, penetrate the hair fiber without the need for clarifying shampoo to open the hair cuticles. This treatment hydrates, stimulates growth, reduces hair loss, and rebuilds the hair fiber, resulting in long-lasting shine and smoothness.
WHY CHOOSE OUR BRAND?
Highly convenient and time-saving, our product can be directly applied to clean hair in a single step, eliminating the need for aggressive clarifying shampoos that dry out the hair, make it difficult to style, and consume valuable salon time. With our nanotechnology-infused formula, the procedure time is reduced by 40 to 60 minutes, and the results last longer.
ITS BENEFITS:
One-step straightening process, faster and easier application without the need for clarifying shampoo.
– Immediate final results, hair can be washed the same day or later.
– Provides a minimum of 90% hair straightening or customizable to achieve desired hair relaxation.
– Longer-lasting results, visibly noticeable for 6 to 8 months.
– Formaldehyde-free. Organic formula. Pleasant scent.
– No health risks for both clients and professionals.
– Suitable for all hair types (curly, frizzy, colored, highlighted, blonde, etc.).
NOT TESTED ON ANIMALS, DERMATOLOGICALLY TESTED, EU COMPLIANT
Additional information
| | |
| --- | --- |
| Weight | 1.2 kg |
| Dimensions | 30 × 20 × 12 cm |